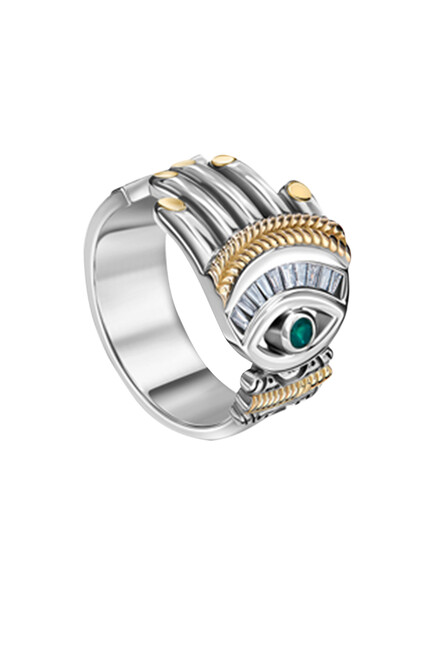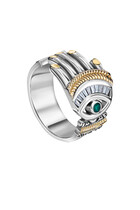 Kaf Wrap Ring, 18k Yellow Gold with Sterling Silver & Diamond
Oops! Something went wrong. Please select a color.
Size:
FR 53
(Only 1 left)
Please select a size
Thank you - we'll send you an email when your item becomes available
Sorry, this item is currently unavailable. Keep track of this style so you don't miss out if it becomes available again.
Sorry, this item is currently unavailable.
Gift with purchase added to your bag!
Oops! Something went wrong. Please, try again.
Pair Azza Fahmy's Kaf Wrap Ring with slim bands to create a beautiful stack, or let it shine on its own. Crafted from sterling silver, it's adorned with touches of 18k yellow gold to make a bold and luxurious statement. A dramatic, diamond-set eye motif is embellished with a green onyx gemstone in the center.
Materials & Product Care
Outer Composition:
18k Yellow Gold, Sterling Silver, Green Onyx, Diamond
Care Instructions:
Avoid contact with water, oils, perfumes and cosmetics
Product ID

216116555

/

JEW216116339
Founded in 1969 and inspired by 7000 years of Egyptian heritage and culture, Azza Fahmy jewelry preserves techniques used thousands of years ago to tell a unique, individual story with every piece. The handcrafted pieces show elegance and revolve around a central inspirational motif or a poem that carries a personal message to its wearer, making the calligraphy one of their unique signatures, in addition to pioneering in combining silver & gold. The timeless pieces were first debuted in 1970, designing the jewellery worn by the renowned actress Souad Hosney and then in 2001 released her first limited collection which was infused with 'all the glorious influences and inspirations that have touched my work over the past fifty years. Since then she has showcased her pieces at London and New York Fashion week, open boutiques across the globe as well as creating a 9 piece signature collection for the British Museum. Shop the eccentric Azza Fahmy collection to own a timeless piece inspired by Egyptian heritage.
Shop

Azza Fahmy
FR ring sizing
Size refers to approx. circumference of finger in mm