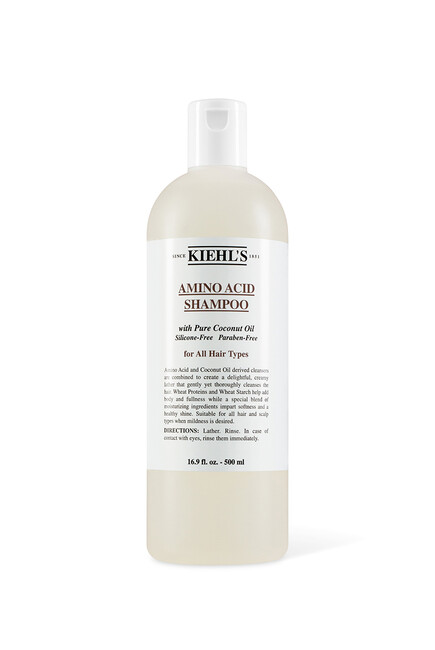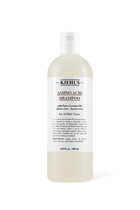 Oops! Something went wrong. Please select a color.
Size:
500ml
Please select a size
Gift with purchase added to your bag!
Oops! Something went wrong. Please, try again.
The Kiehl's Amino Acid Shampoo creates a rich, creamy lather for a delightful shampoo experience.
Enriched with a special blend of moisturizing ingredients, it imparts softness and shine while adding body and fullness.
| | |
| --- | --- |
| How to use: | Apply to wet hair and gently massage a small amount through the scalp area. Rinse with warm water. Repeat if desired, and follow with the Kiehl's Conditioner or Styling Aid of your choice. |
Product ID

204759372

/

BEA204731722
Naturally, skincare brand, Kiehl's, has a loyal following because of its diverse offering of unique formulas and organic ingredients. Working in harmony with mother nature, their moisturizing lotions, dewy oils and botanical creams have been carefully created to respect and restore your skin. Get ready to glow with the finest of ingredients applied with expert science.
Shop

Kiehls
- Amino Acids: fundamental to the human body and construct proteins. When chemically united with fatty alcohol or fatty acid, they have cleansing properties and maintain their mild amphoteric character. Amino Acids are known to moisturize by enhancing the skin's water retention.
- Coconut Oil: a highly saturated fat expressed from the kernels of the coconut. It is stable when exposed to air. It lathers quickly and is a good skin cleanser commonly used in many skin care formulations. Lathers readily and softens skin.
- Hydrolyzed Wheat Protein (Phyto Peptides): an effective substitute for hydrolyzed animal protein derived by acid, enzyme, or other method of hydrolysis. It offers conditioning, moisturizing and film forming properties and is widely in skin care products to help skin retain its moisture and improve its overall appearance.