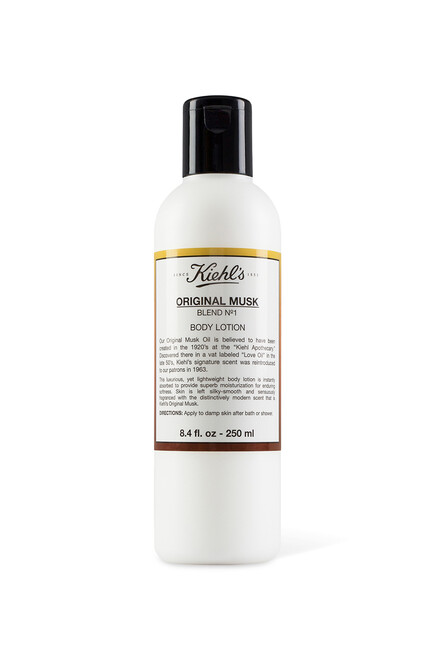 Original Musk Body Lotion
Oops! Something went wrong. Please select a color.
Size:
250ml
Please select a size
Gift with purchase added to your bag!
Oops! Something went wrong. Please, try again.
The Kiehl's Original Musk Body Lotion is a luxurious and lightweight moisturizer that leaves skin feeling silky-smooth.
Fragranced with Kiehl's Original Musk Oil, this scented lotion is an indulgent treat to replenish skin moisture.
How to use:
- Apply to damp skin after bath or shower.
- Can be used morning and night and as needed.
Product ID

204776236

/

BEA204748601
Naturally, skincare brand, Kiehl's, has a loyal following because of its diverse offering of unique formulas and organic ingredients. Working in harmony with mother nature, their moisturizing lotions, dewy oils and botanical creams have been carefully created to respect and restore your skin. Get ready to glow with the finest of ingredients applied with expert science.
Shop

Kiehls
- Apricot Kernel Oil: extracted from Apricot Kernels and contains Vitamin E and unsaturated fatty acids. Within Kiehl's formulas, it helps moisturize and soften skin.
- Sesame Oil: a refined moisturizing oil derived from Sesame Seeds and has similar emollient properties as other nut and vegetable oils. Within Kiehl's formulas, it is known to help soften skin.