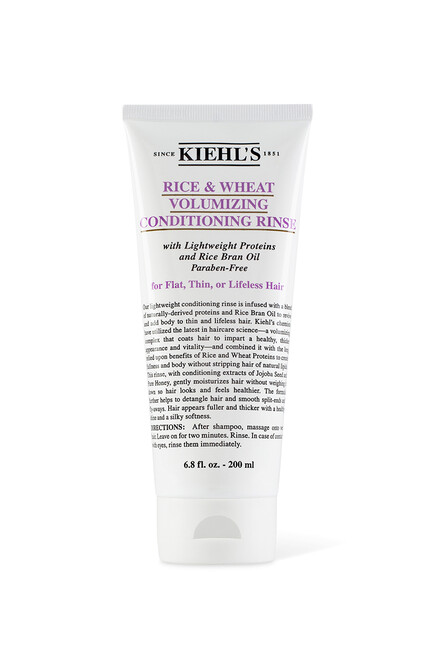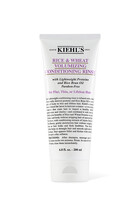 Rice And Wheat Volumizing Conditioning Rinse
Oops! Something went wrong. Please select a color.
Size:
200ml
Please select a size
Gift with purchase added to your bag!
Oops! Something went wrong. Please, try again.
The Kiehl's Rice And Wheat Volumizing Conditioning Rinse is a lightweight treatment that strengthens thin and lifeless hair.
Formulated with conditioning extracts of Jojoba Seed and Rice Bran, it gently moisturizes hair to result in fuller hair with a healthy shine and a silky softness.
| | |
| --- | --- |
| How to use: | After shampooing, apply conditioning rinse and massage through hair. Rinse. Use daily or as often as needed to revive and add body to hair. |
Product ID

206265110

/

BEA206265109
Naturally, skincare brand, Kiehl's, has a loyal following because of its diverse offering of unique formulas and organic ingredients. Working in harmony with mother nature, their moisturizing lotions, dewy oils and botanical creams have been carefully created to respect and restore your skin. Get ready to glow with the finest of ingredients applied with expert science.
Shop

Kiehls
- Honey: the nectar produced in flowers and then collected and stored by bees. It is composed of a variety of sugars, wax, and other substances, including citric, malic, formic, and lactic acids; beta carotene; enzymes; amino acids and vitamins. It is used as an emollient in skin care and creates a watertight film, allowing skin to rehydrate itself. Moisturizing, softening, sweet and fragrant.
- Hydrolyzed Wheat Protein (Phyto Peptides): an effective substitute for hydrolyzed animal protein derived by acid, enzyme, or other method of hydrolysis. It offers conditioning, moisturizing and film forming properties and is widely in skin care products to help skin retain its moisture and improve its overall appearance.
- Hydrolyzed Rice Protein: This plant-derived peptide helps protect skin from external aggression –a key cause of early skin aging. Rich in phytosterols and polyphenols, the extract is known for its antioxidant and skin-firming properties.