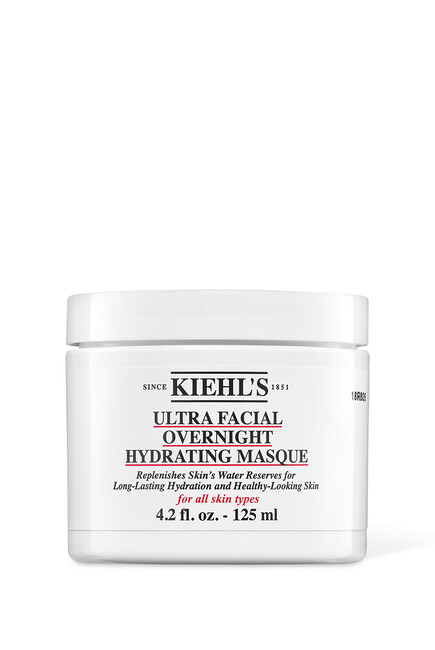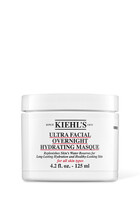 Ultra Facial Overnight Hydrating Masque
Oops! Something went wrong. Please select a color.
Size:
No Size
(Only 1 left)
Please select a size
Gift with purchase added to your bag!
Oops! Something went wrong. Please, try again.
The Kiehl's Ultra Facial Overnight Hydrating Masque boosts the skin's ability to absorb and hold moisture for long-lasting hydration.
Glacial proteins and desert plant improve skin elasticity resulting in smoother, supple and healthier-looking skin by morning.
| | |
| --- | --- |
| How to use: | At night, cleanse and tone your face, then apply your eye area treatment if desired. Apply a generous layer of the masque onto clean skin and leave on for 10 minutes. Use a tissue or towel to remove excess but leave a thin layer intact to continuously replenish skin's moisture throughout the night. |
Product ID

205857016

/

BEA205857009
Naturally, skincare brand, Kiehl's, has a loyal following because of its diverse offering of unique formulas and organic ingredients. Working in harmony with mother nature, their moisturizing lotions, dewy oils and botanical creams have been carefully created to respect and restore your skin. Get ready to glow with the finest of ingredients applied with expert science.
Shop

Kiehls
- Squalane (Perhydrosqualene or perhydrosqualene vegetal): A signature Kiehl's ingredient, Squalane is a botanical lipid that is similar in molecular structure to natural skin lipids. It has an exceptional affinity to skin, and because it's easily absorbed, Squalane helps restore skin's natural moisture balance to keep it extra soft and supple.
- Glycerin: a well-known skincare ingredient, is highly compatible and naturally occurring within skin. Within Kiehl's formulas, it is a powerful humectant known to help retain moisture and soften skin.
- Fountain Plant: Also known as Ophiopogon Japonicus Extract, this is native to Asia and is known to resists drought. In skin it helps boost the natural ability to retain water and aids in increasing skin's production of humectants.
- Fragmented Hyaluronic Acid: A form of Hyaluronic acid with a lower molecular weight and size is able to penetrate deeply and fill water reserves in skin.