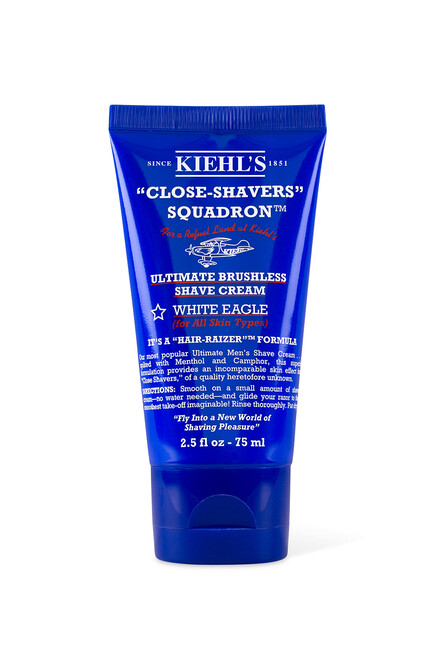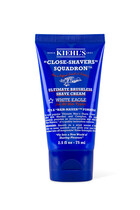 White Eagle Ultimate Brushless Shave Cream
Oops! Something went wrong. Please select a color.
Size:
75ml
Please select a size
Gift with purchase added to your bag!
Oops! Something went wrong. Please, try again.
The Kiehl's Ultimate Brushless Shaving Cream is enriched with camphor, menthol, sesame seed oil and squalane to provide a smoother shaving experience.
Formulated with rich emollients, it ensures optimum moisture levels are maintained throughout leaving skin soft and refreshed.
| | |
| --- | --- |
| How to use: | Smooth on a small amount of shave cream (just enough to cover shaven area). No water is needed, just glide your razor for a smooth shave. Follow with a Kiehl's toner and moisturizer suitable for your skin type. |
Product ID

204759354

/

BEA204731719
Naturally, skincare brand, Kiehl's, has a loyal following because of its diverse offering of unique formulas and organic ingredients. Working in harmony with mother nature, their moisturizing lotions, dewy oils and botanical creams have been carefully created to respect and restore your skin. Get ready to glow with the finest of ingredients applied with expert science.
Shop

Kiehls
- Camphor: naturally derived from an eastern evergreen tree. It can give a cooling effect to the skin and is an effective treatment for oily skin.
- Menthol: a natural cooling agent, containing 50% peppermint or other mint oils, or made synthetically by hydrogenation of thymol. It is used in skin care to give a cooling effect to skin.
- Sesame Oil: a refined moisturizing oil derived from Sesame Seeds, has the same emollient properties as other nut and vegetable oils and is commonly used as a carrier oil for skin care products. Absorbs easily and softens the skin.
- Squalane (Perhydrosqualene or perhydrosqualene vegetal): A signature Kiehl's ingredient, Squalane is a botanical lipid that is similar in molecular structure to natural skin lipids. It has an exceptional affinity to skin, and because it's easily absorbed, Squalane helps restore skin's natural moisture balance to keep it extra soft and supple.